Posted on November 25 2019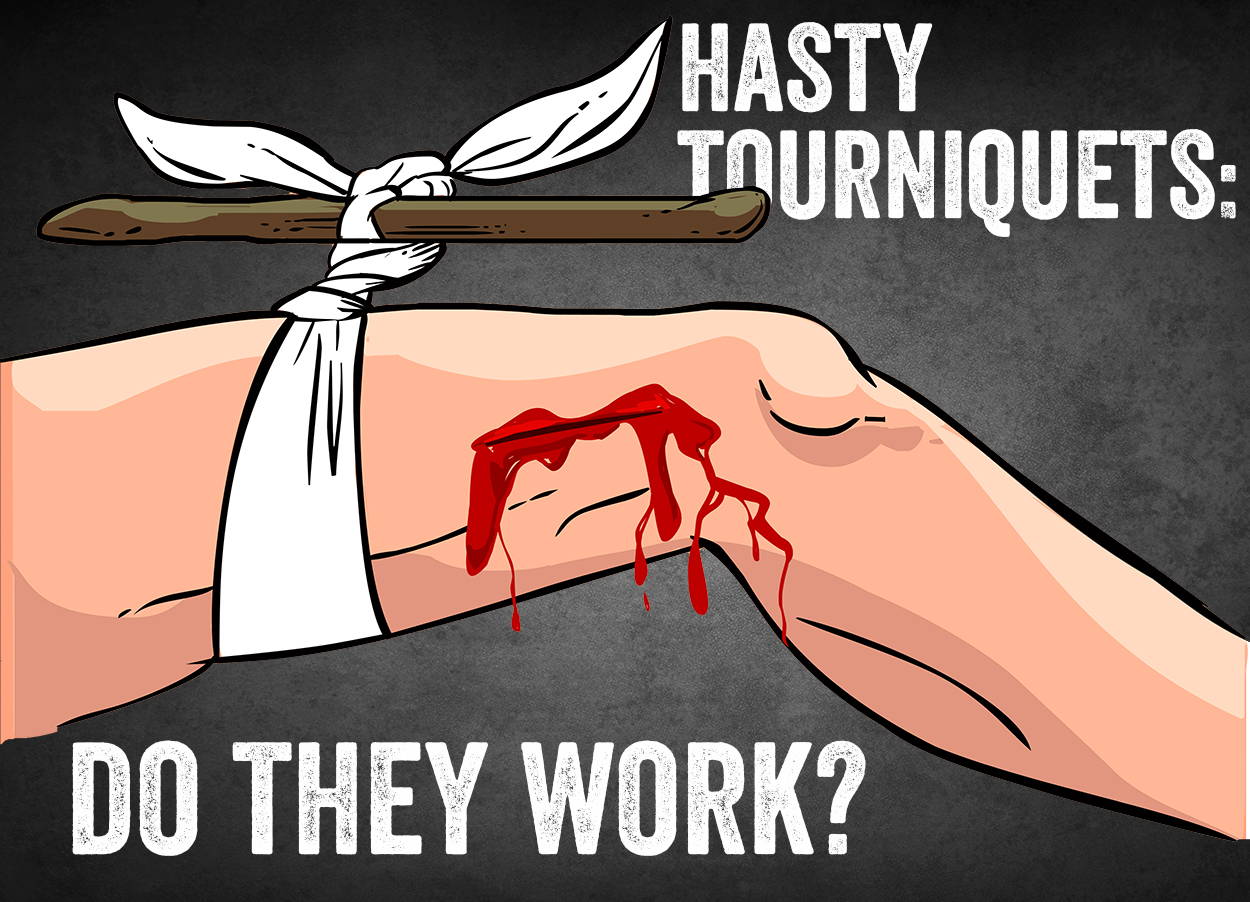 ---
AUTHOR Jeff Kirkham / RM Training Blog / PUBLISHED: NOV-25-2019
---
There is a misunderstood study circulating around the tourniquet community that is cited as having claimed that 80% of hasty/field expedient tourniquets don't work.
Do Hasty Tourniquets Work?

Upon deeper reading and analysis, you find that the study is focused solely on the Boston Bombing and asserts that approximately 80% of tourniquets applied during that specific event did not work. 
What is not addressed in the study is;
(1) The level of training held by those that applied the tourniquet,
(2) Did the tourniquets at least slow massive bleeding down to the point that lives were saved, and
(3) How many of those people that applied the tourniquets still harbor the incorrect, old school stigmas prevalent during that time (use only as a last resort, causes amputation, nerve damage etc.). 
Essentially, the "Why" behind these failures is not addressed, leaving the reader to assume it's due to the inherent inadequacies of a hasty tourniquet, not the contributing factors that actually caused the failures.
Saying that 80% of hasty tourniquets don't work is like saying 80% of cars don't run, but failing to mention that most of the test subjects didn't know how to drive.  The cars didn't drive (the tourniquets failed) not because they didn't work but because the users did not know how to operate the equipment properly.  Saying hasty tourniquets do not work is irresponsible because it send the wrong message to the average person with little to no medical training.  It makes them believe that if they don't have a store-bought tourniquet available during an emergency there is nothing that can be done and that they are helpless to render aid to help save a life.
In ReadyMan alone, we have proven and confirmed with Doppler Ultrasound that many hasty field expedient tourniquets do work and work well, you just have to know HOW to make them work.
Green Beret medics have been taught these tricks for decades because in austere conditions you must make whatever is available work to accomplish the task at hand. In this case: stop massive bleeding to save a life.
It does not need to be pretty, cool, store bought, or even "approved" by anyone or anything.  Bottom line - if it works well then it works.  Don't throw your hands up in defeat simply because you don't have the best tools.  A knife will work as a screw-driver - it ain't pretty but it will work.   The below examples will work as tourniquets but like anything it takes training.
We have proven (with Doppler Ultrasound) the following items will stop blood flow if used CORRECTLY.  And, like any piece of equipment, if it is used incorrectly (surprise, surprise) it won't accomplish the task at hand.
-Water bottle and strap:
This is a trick that is taught to Green Beret medics.  A round water bottle is placed on the abdomen and a strap runs completely around the midsection of the patient.  Pressure on the bottle causes a pinch on the descending aorta stopping blood flow to the entire lower body.
- Bicycle inner tube:
This is a DIY version of an "Esmarch" tourniquet that orthopedic surgeons have been using for decades.  Taking an inner tube from a bicycle and slicing it length-wise creates an elastic strap that can then be wrapped tightly multiple times causing cessation of blood flow.
-Para cord (Yes I said Para-cord):
Ok people are going to scream about this one because it defies all we "THINK" we know about tourniquets, but it worked.  It took multiple tight wraps around the leg, was really uncomfortable but it did work.  An interesting note is that it did not damage the tissue below, of course it was only on a few minutes but in a life and death situation, Para cord works.
-Bandana, key ring and stick:
This is the old reliable that has been taught to boy scouts and soldiers for ages.  It does however take knowledge to make it work.  The key ring holds the stick in place to keep it from unwinding.
-Cravat and stick:
Similar to the above but superior since you can wrap the cloth twice before twisting the stick which gives a better, more all around squeeze on the limb.  You also have the additional cloth to tie off the stick to keep it from coming unwound.
-Belt and stick:
Very similar to the cravat and stick, but this will only work with a belt that is flexible enough to be twisted creating the cinch effect to stop blood flow.  Belts that are 1" and 1.5" webbing belts that are not too stiff work and it is the same for leather.  If the belt is too stiff like what is often favored by concealed carry persons, you are out of luck.
-Belt by itself (this was super tough to make work but it did)
Ok it is possible to make a simple belt work without a stick, BUT it takes significant arm strength to hold the pressure to stop the blood flow.  I am a big guy and I was able to make it work, but holding the belt would quickly cause fatigue in the majority of people.
-T-shirt and stick:
See the above about the cravat and stick the same applies here.  Remember the stick is anything that can be used to twist, like a pen, screwdriver, wrench almost anything really that is stiff and relatively straight.
-Surgical tubing:
This was initially advocated by an extremely experienced WWII surgeon and then was later proven to work by the Canadian army.  You need to tightly wrap several times but it works well.
-Flat elastic exercise band:
This is yet another version of the Esmarch tourniquet and very similar to the Israeli Stretch Tourniquet.  Wrapping multiple times creates increased pressure that stops the flow of blood.   
You should always have a tourniquet on you as you will never know when you will need it. It may be your life or someone else's' that depends on your preparedness. The Tourniquet Belt from RATS Medical is the most practical way to always have a tourniquet on you.
Always Carry A Tourniquet  
If you are an EDC advocate then you should carry a tourniquet every day.  The number one preventable cause of death in trauma is massive hemorrhage (bleeding to death) so it makes sense to have the means and KNOWLEDGE how to solve this problem and save a life.
Right now you can purchase the ultimate EDC tourniquet for your Every Day Carry - it is the Trauma Belt and its on sale for the holidays. If you are looking for a more traditional tourniquet, the RATS Tourniquet is a lightweight, simple-to-use tourniquet that works in all conditions on all types of people; including children and K-9's.
---
---
Disclaimer: We may use Amazon Affiliate links in this blog. The reason for doing so is that we want to give you access to great gear that we don't have on our own store. We may receive commission from Amazon if you buy something from our links. If you have any questions on this, feel free to drop us a line at info@readymanteam.com. Thanks for your support!