Posted on October 21 2019
Author JEFF KIRKHAM / READYMAN / Published: OCT-22-2019
Throughout time the sacred pact of fathers teaching sons existed and was essential for the survival of the family as well as the tribe.  The father to son passing of knowledge was essential not only for survival, but so that the overall group and community could prosper.
In modern times things have gotten so incredibly complex, the sacred time that fathers and sons once spent together has degraded, or in some cases been lost.  There is one organization that exists that is still trying to continue in that tradition and it's the Boy Scouts, even though they are having a hard go of it.  As an Eagle Scout myself, I worry about the Scouts as an organization but still know that its roots are firmly planted in the traditions and skills that our upcoming generations sorely need.
People often ask me what the contributing factors were of me surviving so many years in the wars in the Middle East, and without hesitation I can point the finger at the knowledge and skills I learned in the Boy Scouts.  My father was adamant that his sons participate in Scouting and insisted that we all earn our Eagle scout; this was no small feat considering we moved across the country every 2 – 3 years and young men at sixteen years of age start to think girls look pretty good!
Later when I joined the Army and went to the Special Forces Qualification course to earn my Green Beret, I was amazed at how much further ahead in field knowledge I was than many of the men there.  In a nutshell, many of the things we were taught, I had already learned in Scouting.
Then later, when I was doing nonstop deployments to the war, many of the books I carried were the Boy Scout merit badge books.  The Boy Scout merit badge books (pamphlets really) are amazing resources that are easy to read, and a fantastic reminder of skills that you just may have forgotten or never knew.  Even better, they are road map on skills and knowledge that you can teach your sons (and daughters) as they mature into adults, arming them with the skills and knowledge that will carry them forward.
A Father's Bond
The author Jeff and his son in Hurrah Pass by Moab, Utah.
Building Skills With The Boy Scouts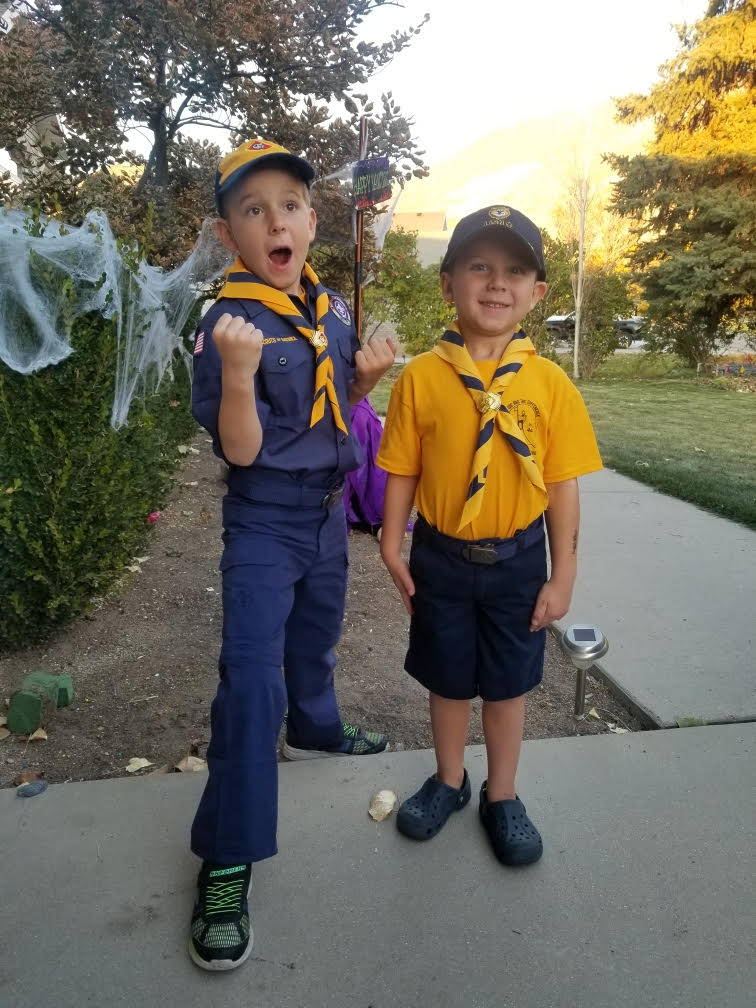 Fast-forward several years, and I find that I now have sons of my own, who are just now starting on the Scouting trail, learning to be trustworthy, loyal, helpful, friendly, courteous, kind, obedient, cheerful, thrifty, brave, clean, and reverent. 
What parent wouldn't want their children to be all of those things?  Our community and country desperately needs for its members and citizens to be at least most of those things if we are going to not only prosper but also survive! 
Ask yourself, how can we expect those qualities of our youth and later future adults, if they were never taught those things (from their fathers and mothers) and the importance of them for a society?
You don't have to be in Scouting to buy they books, learn the lessons and build the skills, but it helps.  There are many programs in existence that help the youth, but none that I know of that are as extensive and with the rich traditions as the BSA.
Check out the merit badge books, and get a taste for what your kids can learn and you will un-doubted learn and re-learn lessons that you will be able to pass down to your sons.
Yes, the Boy Scouts of America are having their challenges, but, the knowledge in these books have been passed down from generation to generation and cultivated a spirit of independence and self reliance. It's well worth having a copy on your shelf. You can get one HERE.