Posted on October 27 2019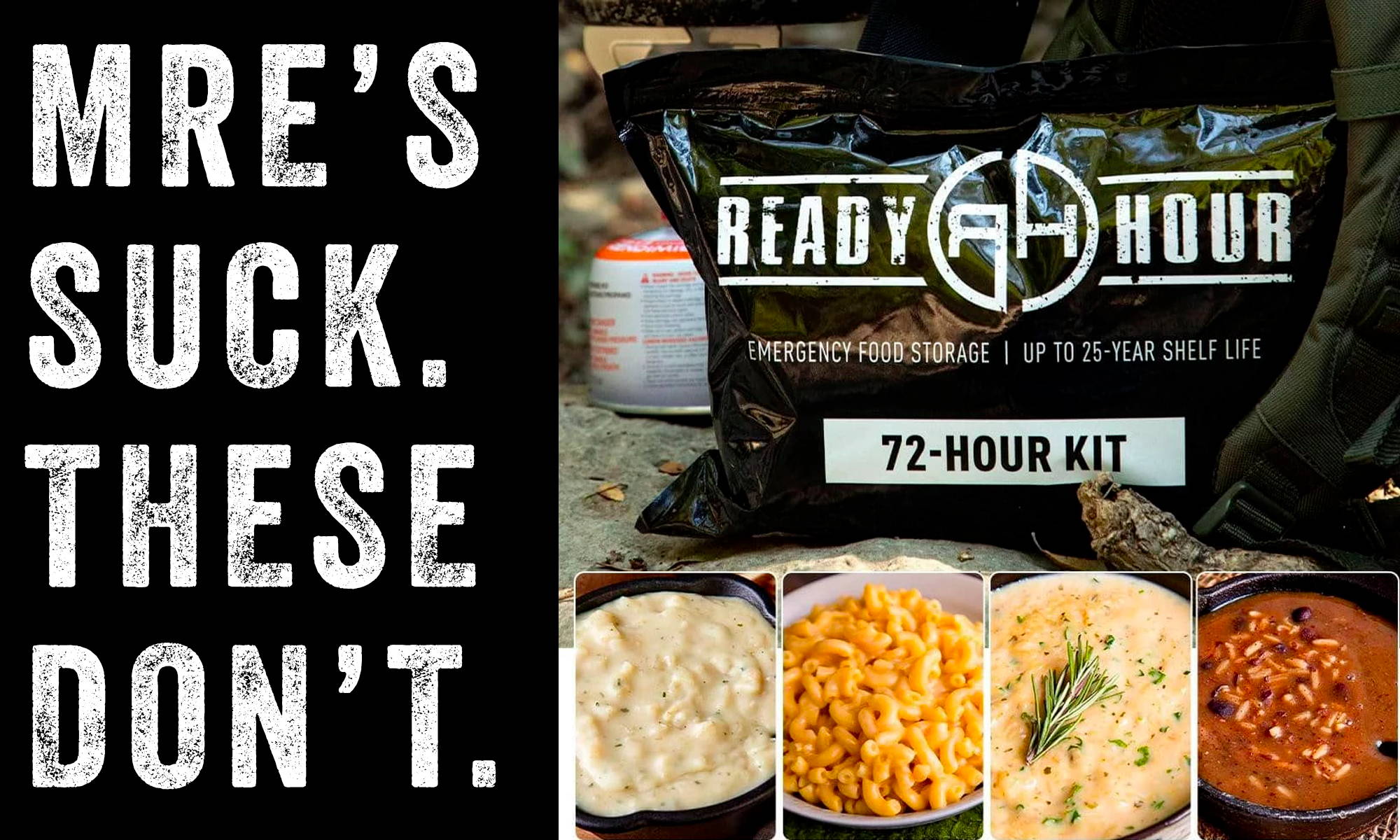 Author JEFF KIRKHAM / READYMAN / Published: OCT-27-2019
We just wrapped up the October ReadyMan challenge this weekend and it allowed us to do some in depth field-testing of one of our new ReadyMan products, the "Ready Hour" 72-hour kit.
Here at ReadyMan, we have been looking for a food solution for quite some time that could fill a few different roles.  We had been working with Patriot Pantry for over a year when they approached us and asked "What would you want in a food storage option?"
Here is what we told them:
First: It had to be cost effective so that the ReadyMan community could not just purchase it, but actually USE it, without breaking the bank.  Everyone is, or at least should be, on a budget because financial preparedness is just as important as disaster preparedness.
Second: It had to taste good because nobody wants crap flavored food in any situation.  Having been in the Army and experiencing eating C-Rations and the early versions of the MREs, the taste left a lasting impression on me for decades!  As a matter of fact, the only time that I thought one of the early MREs tasted good was when I was actually starving (and yes I mean real actual starving not just hungry) in Ranger school.  The early MREs were simply horrible, and the C-rations were even worse.  It is no accident that Tabasco started getting added to every meal.
This new ReadyHour food tastes great, and it is so delicious that my finicky five-year-old son asked several times for the "cool camping soup" during this ReadyMan challenge weekend (I snuck him into the challenge don't tell anyone!).
Third: We wanted a food solution that you would be able to take out with you camping. 
It had to: Taste good, be easy to make, and light weight and compact so you could carry it.
It does not do any good if you never use your food, or worse even know how to use it.  As many of the ReadyMan community know, we believe that camping is not only a great way to build your family and friend relationships, but it is also a dry rehearsal for having to evacuate (bug out) out of an area. 
How could you possibly know what to take with you and how much to take, if you have never done it before? 
The simple answer is you can't and you won't.  You can't reliably think you are going to remember everything for you and your family if you have never tried rounding everyone up and throwing in all the essentials.  Now add some stress to that because you have to get out NOW!  Camping is a fantastic rehearsal that is fun, builds community and gets you prepared.  Stuff without skills and knowledge is just keepsake storage.
Fourth and finally, we wanted a food that was long-term storage capable, so you could continue to build your emergency preparedness food storage but be able to rotate it.  You need to rotate your food storage anyway, so why not rotate it via your mouth?  This solution lets you take it out and actually use it and learn how to satisfy the hunger that your family is going to experience.  It has a 25 year shelf life, but is easy to make, tastes great, and is compact and easy to carry.
In short, we have been searching for a food solution that was multi-purpose; food that someone could afford to eat not just in emergency situations but for camping as well!
Cold Weather Survival Is Hard.
Make it a little easier on yourself by having nutritious, high -calorie foods that will taste great, and give you a much needed morale boost.
Practice CAN Be Fun!
Use camping and your time spent leisurely in the outdoors as practice runs for the real thing. This accomplishes a multitude of things, not the least of which, a mental break from the pressures of everyday life.
We here at READYMAN may use Amazon Affiliate Links that will give us a commission. We cannot always carry all of the gear that we test and use ourselves, which is why we use Amazon Affiliate Links to present our readership with different options to further their self-sustainment goals. Thanks for reading!