Posted on January 06 2020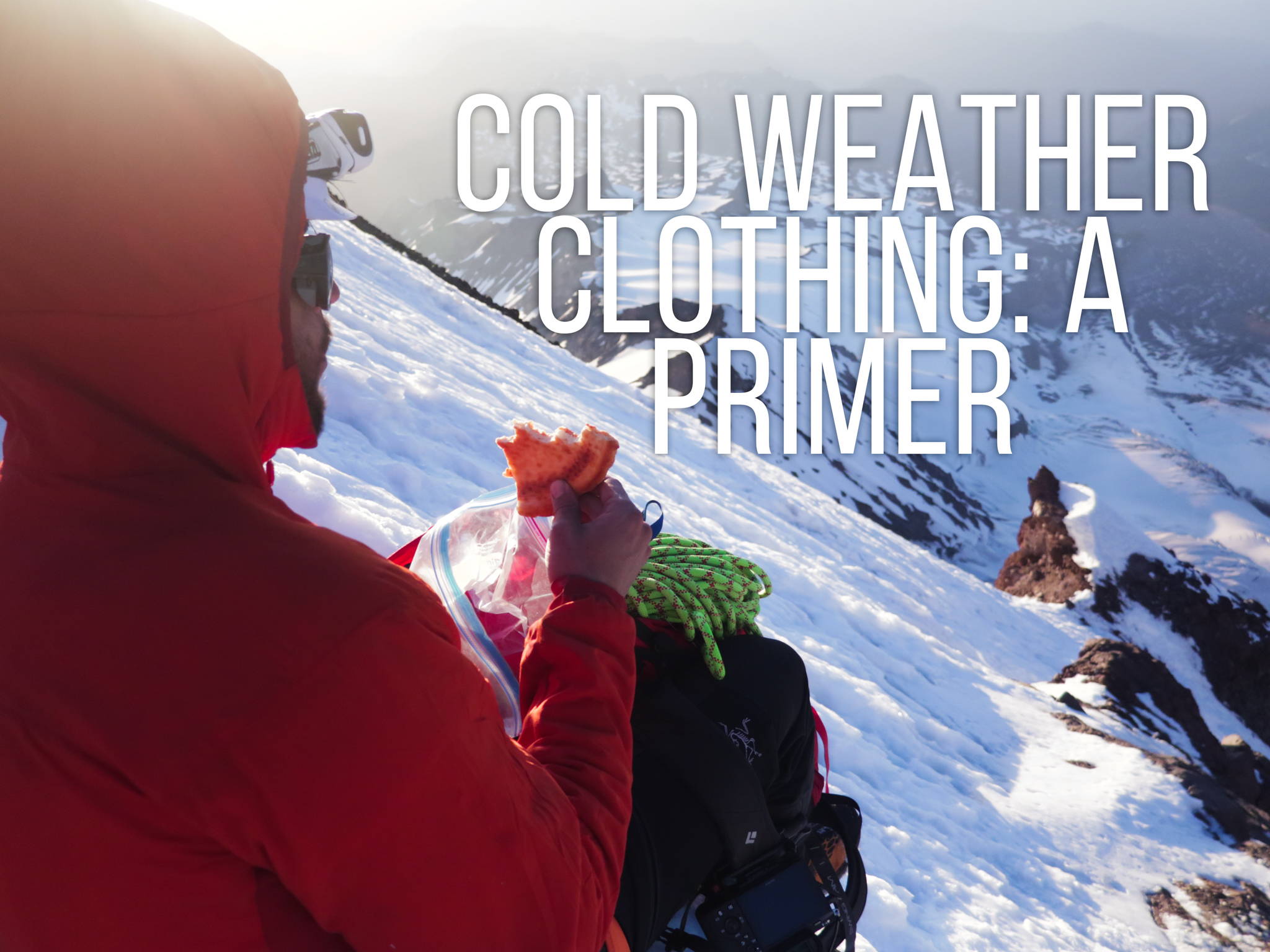 ---
AUTHOR Matt Winslow / RM Training Blog / PUBLISHED: JAN-6-2020
---
"As men, we typically eschew clothing in favor of more 'hard gear'; guns, ammo, and wiz-bang gadgetry are top contenders for our hard-earned dollar, and more often than not, win the top spot in our budget battle."
Cold Weather Clothing: A Primer

As I write this, the temperatures are currently at an balmy 14 degrees here in Salt Lake City, and I couldn't be happier!
As an ice climber, I love having an early start to the season, and hopefully, we'll have several more cold months so that I'll be able to tackle some of my favorite routes and projects.
The cold snap also brings me the opportunity to test some of my clothing pieces that I acquired over the summer months at screaming deals.
As men, we typically eschew clothing in favor of more 'hard gear'; guns, ammo, and wiz-bang gadgetry are top contenders for our hard-earned dollar, and more often than not, win the top spot in our budget battle.
I'm here to tell you that the none of that matters when you are suffering from hypothermia and exposed to the elements. I've slept with a rifle a ton of nights over the years and not once, did it ever bring me much physical warmth (mental comfort was another story).
I've learned a lot about clothing systems over the years through alpine climbing, mountaineering, and ice climbing; disciplines that typically leave oneself frozen and dead without the right gear. There's also little margin for error, as being in "The Alpine" by definition, means there is no vegetation to burn, so starting a fire to keep warm is out of the equation.
So What Do I Need To Know About Cold Weather Clothing?
Base layer
I see people wearing cotton t-shirts underneath their expensive Gore-Tex jackets and it makes me want to scream. Cotton kills in cold weather! Here's why: As you work up a sweat from hiking to your objective, butchering an animal, etc., that cotton t-shirt will get soaked (some people more so than others, but moisture will still be present).
In the summertime, this is a great thing as the cotton will absorb the sweat, stay wet, and thermoregulate through evaporative cooling. So what does this mean for cold weather survival?
Yup, you guessed it: having a garment that doesn't dry out is not only uncomfortable in the cold, it's deadly.
Instead, opt for a Merino Wool garment that stays close to your skin. This garment will transfer sweat away from the skin through the fibers to the outside where it can be evaporated by the heat trapped by your mid layer. There are also synthetic base layers that will accomplish the same thing but won't fend off stink like a good wool-based garment.
"The midlayer will be your most lived-in layer, so grab a good one."
Midlayer. Your Most Valuable Garment 
This is the layer you really want to invest good money into. Luckily, this happens to be the most versatile layer, and the one you'll use most. This layer is going to go over your base layer top to seal in the heat from your core. It will also evaporate the sweat that works it's way to the outside of the base layer from your skin. The mid layer is a medium weight insulation layer that uses either goose down feathers, or synthetic fibers as insulation. There are pro's and con's to both.
Down Jacket Pro's
Highest warmth to weight ratio

Highly Compact-able
Down Jacket Con's
Is next to useless if it gets wet

Expensive

If outer fabric tears, feathers spill out, rendering a cold spot

Baffle construction allows water to enter stitch holes
Synthetic Jacket Pro's
Warm, even when wet

Typically less expensive than Down

Fairly light

Fairly Compact-able

Better water repellency
Synthetic Jacket Con's
Not quite as light as Down

Not quite as compact-able
I use the jackets above daily in the wintertime for a myriad of different tasks. This will be your most lived-in layer you own so it makes sense to grab a good one.
There are a lot of good options available, and I've outlined some of my favorites below:
Arcteryx Atom LT
Patagonia Nano Puff
Arcteryx Cerium LT
A high quality, durable-water-resistant (DWR) soft shell pant will be your best friend in temperatures in the low 50's down to around 30 degrees F.
Pants. A good Softshell goes a long way.
Our legs won't require as much insulation as our core, and as such, a good pair of soft-shell pants will be all you need for 99% of the dynamic activities you will do in a cold weather climate.
Soft-shell pants will repel water, breathe well when working up a sweat, and keep you warm. They have some stretch to them too so they will move with your body when you are hiking.
In super cold situations where you are static, a good pair of insulated over-pants will keep you happier than a pig in mud. Grabbing ones that feature full length side zips is a good choice so you don't have to remove your boots to don them. I will wear synthetically insulated over-pants when riding my motorcycle in the winter time and they do a fantastic job of keeping me warm while cruising at highway speeds in 30 degree temps. I've spent a lot of time in cold conditions and unless it's 33 degrees and raining, you won't need GoreTex (waterproof) shell pants. Again, a high quality, durable-water-resistant  (DWR) soft shell pant will be your best friend in temperatures in the low 50's to around 30 degrees. Colder than that, throw on a merino wool base layer underneath your soft-shell pants and you will be good down to 0 degrees if dynamic. If static, throw the insulated over-pants on and laugh at the elements.
My favorites:
Arcteryx Gamma AR
Outdoor Research Cirque II Pant
Black Diamond Alpine Pant

The author sitting above the clouds on Liberty Ridge, Mount Rainier.

In the mountains, weather is extremely unpredictable. Sometimes, hiking in a baselayer is your best option, and at other times, you will be wishing for every piece of clothing you ever had.
For this reason, it's extremely important to have clothing that can fulfill multiple roles and be as versatile as possible. A Lightweight, packable, layering system is your key to success when surviving in the mountains.
Belay Jacket (Static Jacket)
In climbing, you are typically adventuring with a partner. One climber belays (feeds and takes in rope to ensure the climbers safety in a fall) as the other partner climbs. Obviously, the one climbing will expend a ton of energy and generate body heat and sweat. As soon as you stop to setup a belay station to bring the next climber up in a leap-frog sorta way, you will be static and subject to having your sweat freeze and cause hypothermia. Thankfully, the climbing industry has developed what is known as the "Belay Jacket".
This jacket has more insulation than a mid layer but is still lightweight and packable enough to be stowed in a pack or clipped onto a harness for rapid deployment. Windresistance will be the primary external shell feature because if you are wearing one of these, it's too cold for it to be wet.
These jackets typically feature nylon shells with synthetic or down insulation and a full length zipper for easily taking it on and off.  Remember, in a survival situation, there are going to be plenty of moments of high output, and plenty of moments of static boredom. With this jacket, you can be prepared for the latter.
Belay jackets will be the most expensive garment that you will own. Lightweight, packable, warm, and durable belay jackets will cost a pretty penny, but they will be worth every bit of it when you feel like you are surrounded by a warm cloud in a freezing environment.
Arcteryx Kappa Hoody
Arcteryx Firebee Hoody
Surprisingly, the waterproof shell is one of my least used clothing items and typically gets worn more for wind resistance rather than for fending off the wet. A good quality shell is typically constructed from 3 layer GoreTex that will provide a durable, wind resistant, waterproof garment that will hold up for a decade under hard use. Longer if properly cared for.
A shell won't contain any insulation and I'd highly recommend staying away from any waterproof garments that incorporate insulation into them. Those types of garments are bulky, heavy, and aren't ideal for dynamic use in the outdoors.
Remember, your shell will be the item you probably won't use that much but is essential to have in case a wind or rainstorm rolls in unexpectedly. A good shell will be light and packable so that you can throw it in a day pack and forget about it til you need it. Size the shell so that it can go over your mid layer. Very rarely, have I ever needed to put a shell over my belay jacket as really cold temps are dry. It will help to fend off the wind however.
There are a lot of good options here. Some I've personally used:
Arcteryx Alpha LT
Black Diamond Helio Jacket
Outdoor Research Helium II
This is one that everybody gets wrong and I'm not sure why. Typically, people will only take one pair of gloves. Just like the rest of your body, your hands will sweat with active use. For instance, when you are gathering wood for a fire, you need a lighter weight glove that will have a durable, leather palm and light insulation on the back of the hand.
Have a second pair that you can keep in the inside pocket of your mid layer so that when your first pair gets wet, you can have a second pair readily available that's dry and toasty. Put the wet pair in your mid layer chest pocket so that your body heat dries them out. It's important to choose a glove made from materials that dry easily. I find a synthetically insulated glove with a quality leather palm is the way to go. I would much rather have several pairs of "lightweight" gloves than one pair of heavy gloves.
I will also keep a pair of heavily insulated gloves (or mittens if you prefer) for the times when I'm static. These will also feature a leather palm so that I can still play rough with them. I typically keep them in the pocket of my belay jacket so that I have an easily deployable static solution.
My picks:
Marmot Exum Guide Glove -Heavy Weight
Arcteryx Alpha SL- Lightweight
RAB Guide Lite GTX Glove
This is another thing that people get wrong all the time. Again, cotton kills. Don't waste your time with cotton socks. EVER. Not even in the summertime.
Instead, go with a Merino Wool option that will keep your feet warm, and dry. The best part? They will last for years and you can go days in the same pair without having them smell.  I have 4 pairs of socks to my name that I've had for the last three years. Yes, these socks are more expensive than some, but they last a long time and will be far more comfortable than anything else that you've worn. Don't skimp on keeping your feet happy.
Darn Tough Socks
Smart Wool Socks
These are proven clothing systems that have worked for me in a myriad of cold climates. These suggestions will get you extremely close in having a bomb proof solution to cold weather survival. Because of the differences in body types, you will have to fine tune your setup to fit you.
I get asked a lot as to why climbers and mountain professionals always have bright colored clothing. Well the answer is simple: it's safer. It's annoying to try
and find someone that is wearing dark clothing in an environment filled with white and black.
If you are more likely to find yourself in a situation without the need for camoflauge, then I highly recommend going with at least one item of clothing that is bright colored. This way, if search and rescue needs to find you, they are much more likely to do so.
---
---
Disclaimer: We may use Amazon Affiliate links in this blog. The reason for doing so is that we want to give you access to great gear that we don't have on our own store. We may receive commission from Amazon if you buy something from our links. If you have any questions on this, feel free to drop us a line at info@readymanteam.com. Thanks for your support!